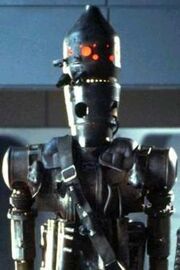 IG-88 was a playable character in
Haters of the Jedi
, the Third Ambush Game. He was portrayed by
Maverickjedivalen
. IG-88's character model is the same one used in
The Rising Menace
. It is unknown if it is IG-88 or even showed.
Haters of the Jedi
Edit
IG-88 was a bounty hunter in Haters of the Jedi. He was one of many Jedi Haters. He was one of those loyal to
Pindus Zwervus
. During the day, he was the onty Hater to vote for Slick, a fellow hater, while the others voted for BillyWilly as he acted like a Spy on purpose because he had a death wish or something like that. BillyWilly was convicted, and he laughed at the others during his execution. During the night, Sev and Fett decided to take advantage of the fact IG-88 voted for Slick and sent Maul to kill him. Maul destroyed IG-88, but the droid somehow survived and was rebuilt to IG-88.