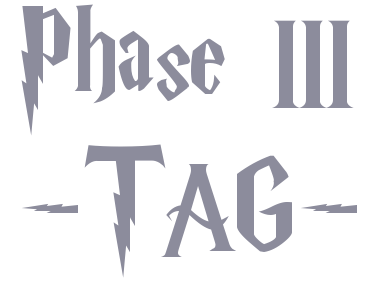 The Phase 3 Games were the third group of Ambush Games. They began with Potato's game called The Tale of Omega. 
Phase 3 began February 15, 2013
Phase 3 Games
Edit
The Tale of Omega- Hosted by Potato
The Rising Menace- Hosted by CBK
Haters of the Jedi 3- Hosted by Pinda
Rise of The Jedi Knight - Hosted by Ivar
Servants of Destruction- Hosted by Spider
The Birthday Party Game- Hosted by Potato             
The No No Name- Hosted by Natalie
Evolution of the Games
Edit
One main significance of the Phase 3 Games is that this is the first Phase where a method other than Legos is used to tell the story. Actions figures will be used in The Rising Menace while drawings will be used in Stranded and The No No Name.
Roles Introduced
Edit
Role Blocker
Bodyguard
Seeker
Roughneck
Levels of Canon Introduced
Edit
CBK-Canon
Sisterhood-Canon
PM-Canon (PM = Penmaster; Nat's canon)
Way of Pictures Introduced (Non-Legos)
Edit
Drawings/Illustrations
Action Figures
Writing
Spin-Off Games
Edit
Dimension Chase II The Darkest Soul (depends on the first game being a success).
Cancelled Games
Edit
Unfortunately, Kenobi-Wan decided to not host Bunker 17, so it then became a cancelled game. If it will ever be hosted is unknown.
| | | | | | | | | | |
| --- | --- | --- | --- | --- | --- | --- | --- | --- | --- |
| Player  | The Tale of Omega | The Rising Menace | Stranded | Haters of the Jedi III | Rise of the Jedi Knight | Servants of Destruction | The Birthday Party Game | The No No Name | Total |
| BobaFett590 | No | No | No | Yes | Yes | Yes | Yes | No | 4  |
| CadBaneKiller | Yes | Hosted | No | No | Yes | Yes | Yes | No | 5 |
| CommanderFisto | Yes | Yes | No | Yes | Yes | Yes | Yes | No | 6 |
| Darksiderules13  | Yes | No | No | No | No | No | No | Yes | 2 |
| Darth Bane | No | No | Yes | Yes | Yes | Yes | Yes | Yes | 6 |
| Darth Malgus | No | No | Yes | Yes | No | No | Yes | Yes | 4 |
| DarthPotato77  | Hosted | Yes | Yes | Yes | Yes | Yes | Hosted | Yes | 8 |
| Darth_Namialus  | Yes | Yes | Yes | Yes | Yes | Yes | Yes | Yes | 8 |
| echaniwarrior | No | Yes | Yes | No | No | No | No | No | 2 |
| Ivar-Jedi | Yes | Yes | Yes | Yes | Hosted | Yes | Yes | Yes | 8 |
| jodokast77 | No | No | No | No | No | No | No | Yes | 1 |
| Master Kenobi-Wan | Yes | No | No | No | No | No | Yes | No | 2 |
| maverickjedivalen | Yes | Yes | Yes | Yes | Yes | Yes | Yes | Yes | 8 |
| Natalie Crescent | Yes | Yes | Yes | Yes | Yes | Yes | Yes | Hosted | 8 |
| newankalt | Yes | Yes | Yes | Yes | Yes | Yes | Yes | Yes | 8 |
| PindaZwerver | Yes | Yes | Yes | Hosted | Yes | Yes | Yes | Yes | 8 |
| Scruffy | Yes | No | Yes | Yes | Yes | No | Yes | Yes | 6 |
| Siblings | No | Yes | Yes | No | No | No | No | No | 2 |
| sithkillagal99 | Yes | Yes | Hosted | No | No | No | Yes | Yes | 5 |
| Spider-Wolffe_78 | Yes | Yes | Yes | Yes | Yes | Hosted | Yes | Yes | 8 |
| Squiggy365 | Yes | Yes | Yes | Yes | Yes | Yes | Yes | Yes | 8 |
| starwarrior247 | Yes | Yes | Yes | Yes | Yes | Yes | No | Yes | 7 |
| StarWarsUnlimited327 | Yes | Yes | Yes | Yes | Yes | Yes | Yes | No | 7 |
| Zinga763 | No | No | No | No | No | No | No | Yes | 1 |
| Players | 16 | 15 | 16 | 15 | 15 | 13 | 17 | 16 |   |