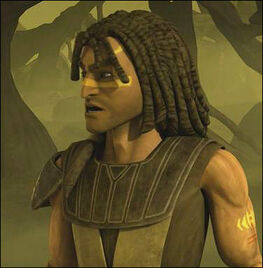 Quinlan Voss was a playable character in The Jedi Temple Game. He was played by Zinga. And he won that game.
Jedi Temple Game
Edit
One day, Quinlan Vos awoke to a loud boom in the jedi temple. He rushed down to the main hall immediately, as did 6 other jedi. Yoda was there waiting for them and has terrible news. There was an explosion in the jedi temple and they were all that was left of the jedi. Devastated by this news, the next bit of news was even worse for Quinlan and the other jedi. Yoda said that there was a group of sith among them that would stop at nothing to kill all of the jedi. Yoda then told the jedi that they would have to vote off one of each other each day until all of the sith were dead. Mace Windu was convicted on the first day, but he turned out to be a jedi. Quinlan and the others then realized that they were not on the right track. Kit Fisto was murderered the next night and was also a jedi. The jedi knew that they had to get it right this time. In order to do so, they all arrested Plo Koon. Plo turned out to be a sith. He was the sith murderer so there would be no more murders for the rest of the days. Ahsoka Tano was arrested the next day but unfortanetely turned out to be a jedi. Now there were only three jedi left, Quinlan, Obi-Wan Kenobi, and Anakin Skywalker. One of them was a sith and the other two were a jedi. Obi-Wan and Anakin voted for each other, leaving the vote and ultimate decision to decide who wins up to Quinlan. Pressured by this vote, he voted for Anakin in the end. It turned out that Anakin was the last sith so Obi and Quinlan emerged victorious for the jedi.
The Tale of Omega
Edit
Quinlan will return in Potato's next game called The Tale of Omega. He is reserved for Zinga.