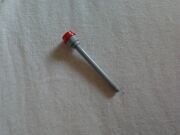 A toilet plunger can be used to hit people, choke people or clean toilets.
Pindus Zwervus
owned a toilet plunger and used it to choke
Slick
(Spider) to death. Later the Republic ordered toilet plungers to be used as weapons for their clone troopers.
Pindus used his toilet plunger again during the battle aboard the Stofzuiger he even used two... revealing he got a spare one. Later during the Battle of Mustafar Kaas Zwervus used this spare toilet plunger after he was forced to leave his vacuum cleaner behind.

They also have a role in the second haters of the jedi game and will be used as weapons in PindaZwerver's combat game. The Toilet plunger was also used by an alternate universe Pindus Zwervus in The Desperate Quest and The Blade of Darth Revan.
Attack: 60
Defense: 30
Cooldown: None
Damage: 20
Speed: 1
Special effects: 50% chance of causing 5 additional damage each turn.